We are a family run and owned saddlery, based in Smythesdale, near Ballarat, in country Victoria.
We are hugely passionate about helping YOU reach your horse riding dreams. Contrary to popular belief, we aren't just here to sell you products. Our ultimate aim is to provide you with as much information as we can, to assist you in choosing the products that will get you to where you want to go, WITH your horses.
Our Story...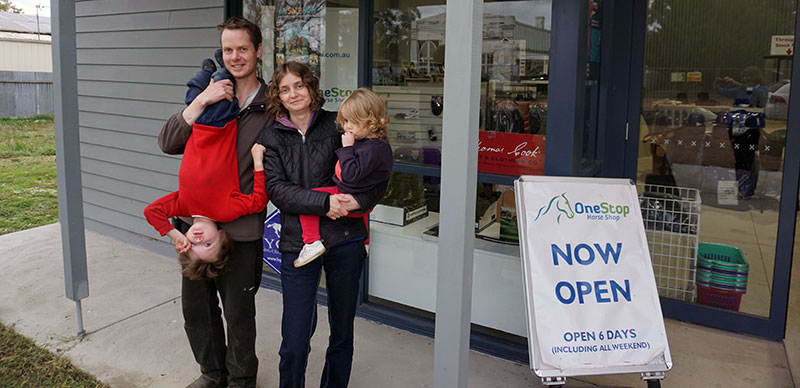 Toby and Sarah are the (somewhat eccentric) dynamic duo behind One Stop Horse Shop.
Living on 70 acres, in a little place called Berringa (40km South West of Ballarat), they are kept busy with two young children (6 year old Oliver, and 3 year old Sophie), looking after their horses, sheep and chooks, and running the business.
Toby has over 30 years experience owning, riding and training horses both for pleasure and professionally. Once apon a time, he competed very successfully in both showing and show jumping (show jumping was his passion and took him all around Australia, with several years on the young rider showjumping squad). He has also worked professionally as a landscaper, energy efficiency and sales consultant, and has a passion for gemstones, minerals, metals, history and antiques.
Sarah has over 25 years experience with horses, starting off with bareback led trail rides on her cousins ponies as a child, and progressing on to her own mounts as a teenager. Sarah has been involved with pony club, adult riding club, natural horsemanship and trail riding over the years, and hopes to eventually compete in HRCAV when time permits (the business and kids keep her pretty busy!). Professionally, she has spent over 12 years within the Web/IT industry, as a Web Content Specialist across government organisations and the retail/e-commerce sector.
As you can see from the photo above - we do things a little bit differently here at One Stop Horse Shop - and we are tad nuts! But life (particularly with kids and horses) IS messy...AND REAL! We like being real...
Our Horses...
We currently have 3 horses, or as Sarah loves to say 2 and a quarter! You will understand why if you keep reading:
Jack: A 20+ year old, 15.2hh retired Standardbred, who Sarah has owned since he was just 7. Jack was actually a very famous 'pacer' over in New Zealand, who won the Wellington Cup and was quite successful over his younger years. He then decided that racing wasn't going to be his thing anymore, and after being exported to Australia, found himself fall on tough times. This is when Sarah came along, fell in love with him and has enjoyed his funny antics ever after (ask us one day about Jacks encounter with an emu... a very funny story indeed).
Trigger: A 5 year old, 16.2hh, off the track Thoroughbred. A spunky, funny young horse, who has absolutely no desire to anything under saddle, in a hurry! Strangely - he wasn't a very good racehorse (we still don't get why?). Sarah however has big plans for adult riding club and dressage, with this spunky pony. If she can ever get him to MOVE!
Snowball: And then there came the 'quarter' of a horse. Little Mr Snowball, is a black (yes BLACK!) miniature/shetland pony. He was given to our son Oliver, on his second birthday, by his rather keen grandparents. Four years later, and Oliver has finally decided to start riding him at long last. And despite our initial reluctance to have a miniature pony on the property - he sure has won all of our hearts (even Toby's) with his cheekiness and sheer brilliance with young kids. He is just one of those wise old ponies, who somehow knows how to look after even the tiniest of children - and he laps up all the attention he can get. Awwww....so sweet.
How One Stop Horse Shop came to be...
One Stop Horse Shop literally came about after one single conversation eight years ago, where Sarah came close to throwing her laptop out the window in frustration when she couldn't find the horse product she wanted to buy online. Sarah said to Toby: 'These horse shops have terrible websites, I can't find a damn thing! I could do a better job!' to which Toby replied: 'Well, why don't we do our own?'.
At the time Sarah stared at him lost for words in shock and disbelief, but Toby always was a good salesman, so soon it was decided to take the plunge and give it a shot. So with the humble start of around 50 products, One Stop Horse Shop was launched!
These days, eight years later, One Stop Horse Shop has over 1000 products and is still growing! Toby and Sarah make a formidable team, and despite growing competition within the online space these days, One Stop Horse Shop continues to be one of the leading, easiest to use, online horse shops around.
The business has been such a great success, that One Stop Horse Shop now has it's very own physical retail shop front at 27 Brooke Street, Smythesdale (Victoria)!
Our Smythesdale store is open!
Sarah and Toby have always thought One Stop Horse Shop would be destined for BIG things! So when Sarah came up with the crazy idea of opening up a physical retail shop in Smythesdale (their local country town, 10 minutes from Ballarat - which just so happens to have a lot of horses!) they soon set about making it happen (yes we do have a thing for doing seemingly crazy things!).
There were no suitable existing buildings in Smythesdale, so they came up with a plan to build their own. Two years of planning and quite frankly, really hard work (plus tears and tantrums!), has resulted in the opening of One Stop Horse Shop at 27 Brooke Street, Smythesdale in March 2017! Hooray!
With this new shop, will come a much wider and larger range of products and gear, offered not only in store, but also online. With Woady Yaloak Equestrian Centre just 2 minutes up the road, and being only 10 minutes from Ballarat, and in easy reach of Colac and Geelong (plus only 2 hours from Melbourne!), One Stop Horse Shop will be perfectly poised to serve local (and travelling) horse owners/riders with all their horsey requirements!
Plus, we are open ALL WEEKEND! If you know this area, you will know that this will be a bit of a first - as trying to find any horse shop open on a Saturday afternoon or a Sunday is pretty much impossible!
So that's our story! And as we are constantly searching for ways to improve our products and service, we would love any suggestions that you might have. Please feel free to shoot us an email at info@onestophorse.com.au at any time :)
Happy Shopping!
Sarah, Toby & The Team :)