Need A Last Minute Gift? Grab A Gift Voucher!
With Christmas a mere week away, time is running out to get your Christmas horsey gifts sorted! But never fear - the answer is right here! A Gift Voucher from One Stop Horse Shop would make the perfect and super simple gift, for any horse lover.
One Stop Horse Shop have two different types of gift voucher:
1. The 'Physical' Gift Voucher
This is your traditional, printed, physical gift voucher that can be ordered in various amounts on our website, and posted out to you (or directly to your recipient if desired).
But as it is posted, you will need to act fast! Purchase by at least this Wednesday, to ensure a Friday (before Christmas) delivery. All physical gift vouchers have now been set up to include Express Post (at a cost of $6.40), to ensure they get to you on time.
If there is anything you want us to write in the 'To' and 'From' fields - just let us know when you order. Otherwise, it will be left blank for you to fill out.
To order - go here: http://www.onestophorse.com.au/gift-certificates/...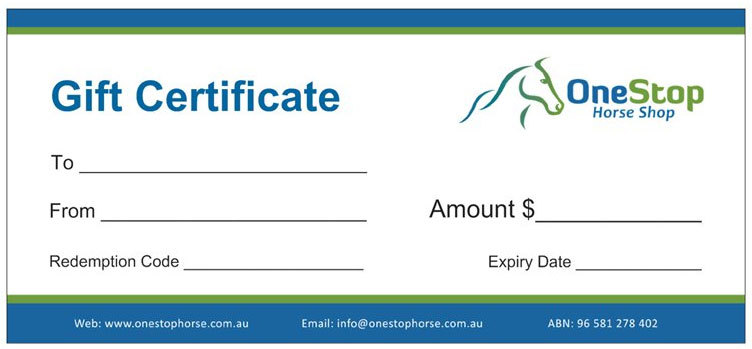 2. The 'Online' or 'Virtual' Gift Voucher
Our website also offers automatically generated 'online' gift vouchers. These are sent via email instantly, upon ordering, to your recipient, and can be made up to any amount you choose.
The recipient then gets an email, with instructions, as to how to spend their gift voucher on our website.
These can be placed any time online - so if you want to do it Christmas morning - you certainly can!
For one of these - just go here: http://www.onestophorse.com.au/giftcertificates.ph...

And that's all there is to it! Once you have your horsey gift vouchers sorted - you can sit back and relax, and enjoy Christmas... (and the accolades from your friends and family who will love you forever for giving them the bestest gift ever)!